ABC Caregiver News and More
Find the latest news, forms and updates for YOU - our ABC team
THE LATEST NEWS
COVID Travel Policy
Based on the recent spikes in Covid 19 cases in so many US states, for the safety of our staff and clients we are implementing a temporary COVID Travel Policy effective immediately.
POLICY
ABC Home Healthcare discourages travel to those parts of the country that are having spikes in cases or designated as a "hot spot" by the CDC. Any employees who travels to these areas may be required to quarantine (unpaid) for 14 days before returning to work or obtain two negative tests. This is dependent upon the means of travel as well as the location, etc.
STOP THE SPREAD
Beginning July 10th Massachusetts will offer COVID testing in communities across Massachusetts that have continued to see a higher number of residents testing positive for COVID-19.  The Stop The Spread program will support the testing of asymptomatic individuals in these communities to help stop the spread of COVID-19. It is available in Chelsea, Everett, Fall River, Lawrence, Lowell, Lynn, Marlborough, and New Bedford. If you are a resident of one of these communities, even if you have no COVID symptoms, please get tested to help stop the spread. There is no out of pocket cost for you to be tested.
Rapid COVID-19 Testing Available
ESSENTIAL WORKERS
PhysicianOne Urgent Care. Now offering testing for Essential Workers - To receive a COVID-19 test, you must complete a medical evaluation through a Virtual Visit or at one of their centers prior to receiving a test.
Reserved COVID-19 testing for essential workers every day!!
To schedule your medical evaluation or Virtual Visit, please click here: and select your state of residence to schedule your Virtual Visit, or, call 855-349-2828 for assistance with scheduling.
Click here for complete details and to learn more
Lowell, MA. Workers who are symptomatic or have been exposed to a COVID-19 client can receive the COVID-19 rapid test at the Lowell location. APPOINTMENT IS REQUIRED. To qualify, complete the online pre-screening questionnaire and be sure to answer YES when asked if you are a healthcare worker AND that you care for older patients (are 60 or older).
For the latest updates on COVID-19 from CDC

The US Centers for Disease Control and Prevention (CDC) remains the best source for the most up to date information regarding COVID-19. Click here to visit the CDC website.
Best Practices to Prevent the Spread of COVID-19 and Keep Everyone Safe
The most important practices are the basics for coronavirus prevention everywhere, as recommended by the US Centers for Disease Control and Prevention (CDC)
Childcare Resources for Essential Workers
Governor Charlie Baker released a list of emergency childcare providers throughout Massachusetts dedicated to supporting the needs of essential workers - including YOU, our Home Healthcare staff!
Please note: Emergency Child Care Programs are for when all other non-group-care settings have been exhausted and families have no other options. Do not contact an emergency child care program unless you require emergency, back-up, drop-in care.
Learn more
.
Click
here
for the list of emergency childcare providers in Massachusetts.
New Online Screening Tool for COVID-19 Released
Buoy Health online 24/7 tool which is free for Massachusetts residents to navigate COVID19 symptoms and be connected to care. This tool uses current COVID-19 guidance from the CDC and Massachusetts Department of Public Health: www.buoy.com/mass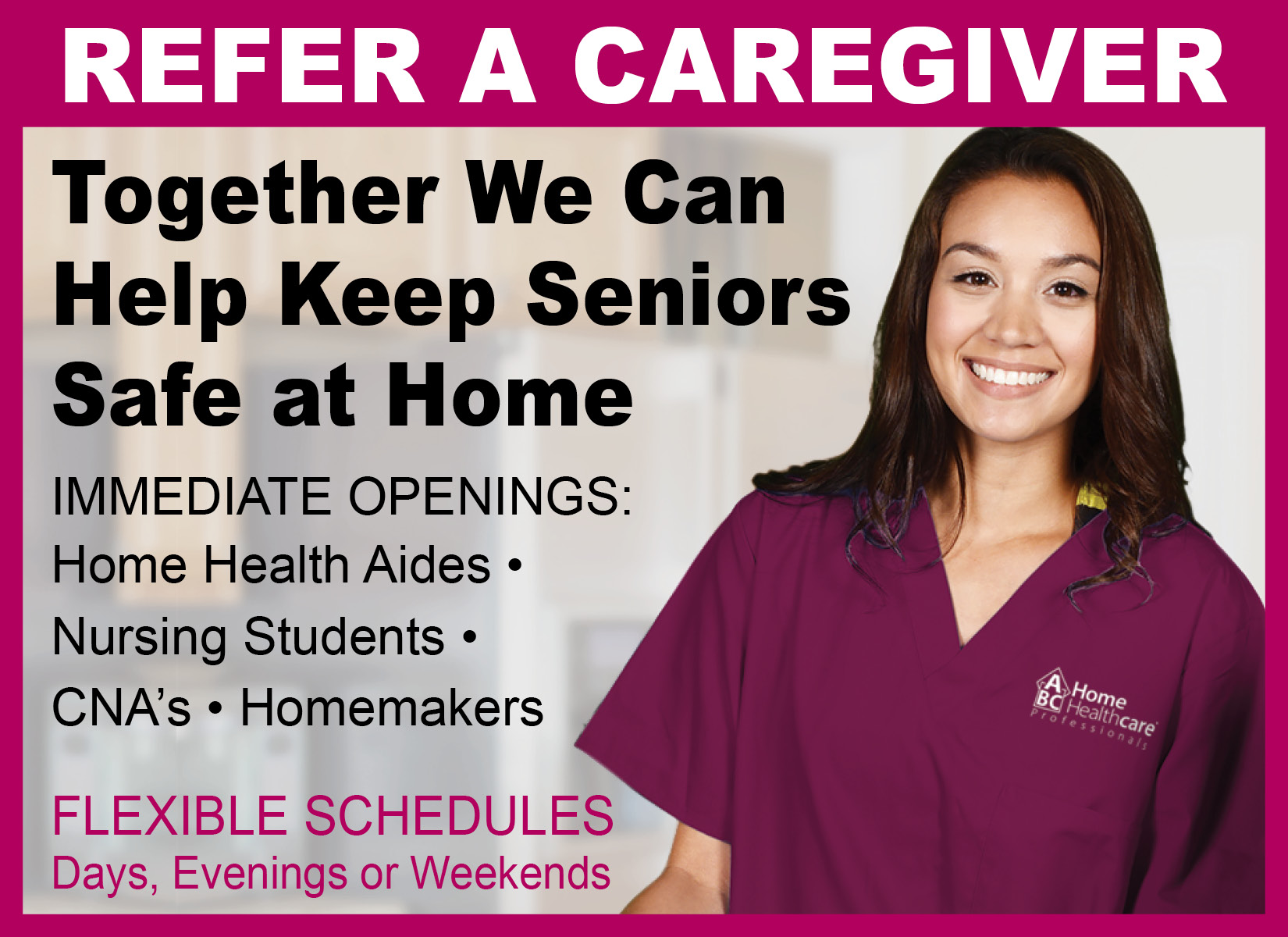 Now more than ever - We need more caregivers LIKE YOU!
Refer your friend(s) that is/are either a Home Health Aide or Homemaker by forwarding their email address to jobs@abchhp.com or calling Christine at 781-914-3273 and you'll earn a $200 gift card if we hire them!*
*To qualify for bonus payment you must refer a qualified candidate, they must be hired, be actively working and work at least 12 hours per week in their first 3 months.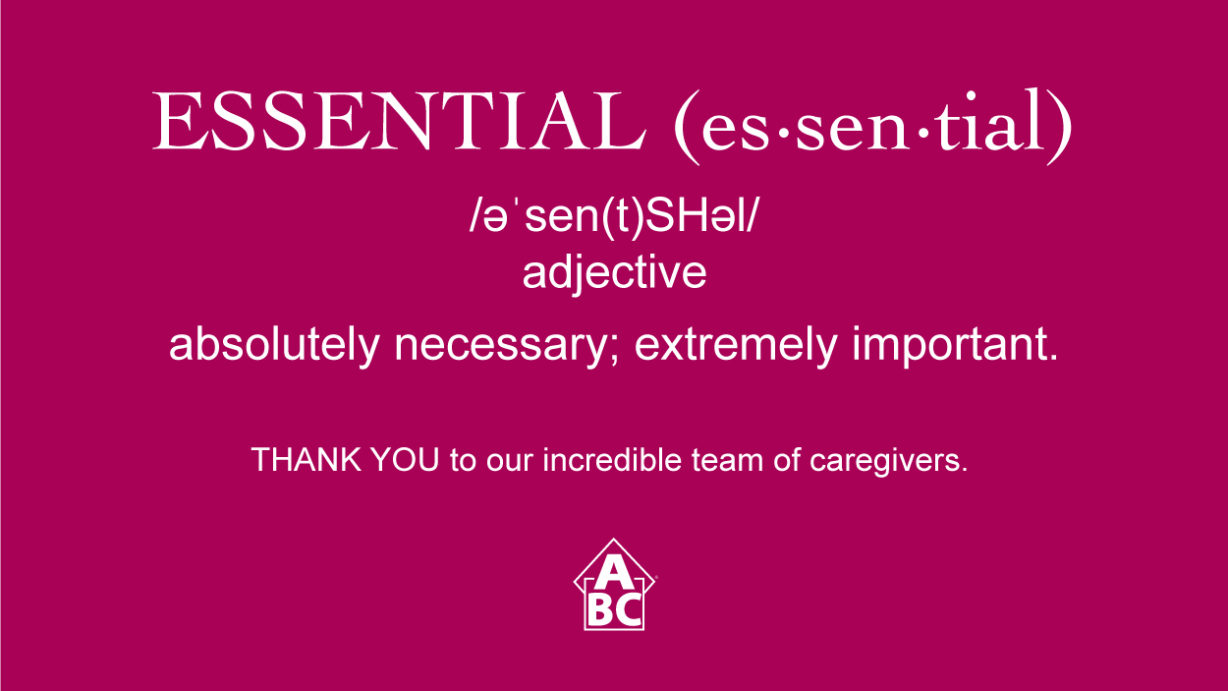 Masks
We've pulled together all you need to know about masks in one place. From wearing to caring, doning to doffing. Visit our mask page for what you need to know.
April 2020 Office Hours by Location
Wakefield   8:30 AM - 4:00 PM
Lawrence   8:30 AM - 4:00 PM
Gloucester   9:00 AM - 3:00 PM
IN-SERVICE INFORMATION
Online in-services and schedule of upcoming events
COVID-19 Online Caregiver Training
In an effort to continue offering you in-service training we have uploaded:
COVID-19: A Guide for Direct Care Workers
This COVID-19 Certification Class prepares direct care workers to perform critical front line work during today's challenging times. With this self-study class, gain relevant, reliable information about the virus and learn how to care for yourself and your care recipients amidst the COVID-19 pandemic. At the end of the online class, complete the online review and press submit to file your COVID-19 Certification.
FREQUENTLY ASKED QUESTIONS
What are the symptoms of the coronavirus?
The coronavirus, also known as COVID-19, is a respiratory disease and airborne illness- meaning, this is typically caught from person-to-person contact or any opportunity where germs spread once an infected person spits, coughs or sneezes and another person ingests these germs from the air.
At present, we understand the following symptoms may appear 2-14 days after exposure:
Fever
Cough
Shortness of breath / respiratory issues
Anyone experiencing any of the above should contact their healthcare provider as soon as possible.
What should you do if you become sick with symptoms of possible COVID-19?
Call your health care provider for guidance, and your supervisor.
What is quarantine?
Quarantine separates and restricts the movement of people who were
exposed to a contagious disease to see if they become sick.
ABC FORMS
Here you will find commonly used forms